ARE YOU READY
TO JOIN OUR
TEAM?


Washburn offers excellent opportunities for skilled technicians. Our technicians provide support to the retail industry; performing diagnostic assessments, repairs, setup & installation, upgrades and maintenance of Point-of-Sale (POS) equipment – new, used and refurbished. Strong troubleshooting, the ability to work in a fast-paced environment, and willingness to be a team player are essential. Training is provided; however, basic technical skills are a must.

8AM – 4:30PM or 9AM – 5:30PM Shift

Positive Work Environment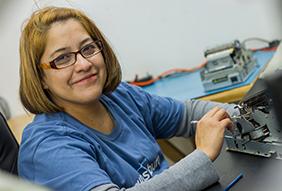 Friendly, Fun and Collaborative
Teamwork is key to meeting the ever-changing point-of-sale challenges and having fun at the same time. Washburn strives to stay ahead in today's ultra-competitive technology market by challenging ourselves to become more efficient and more intelligent. The pace is fast, the atmosphere is fun and the people are friendly. Everyone is encouraged to innovate, contribute ideas and discover solutions.